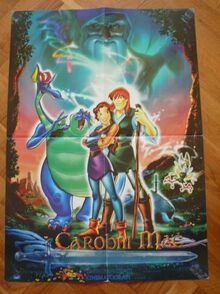 Čarobni mač is the name of the unconfirmed Croatian dub of "Quest for Camelot", also known as "Magic Sword: Quest for Camelot". The poster in the picture is listed as a possible Croatian poster, due to the Serbian dub of the movie having the same title, sometimes written in regular letters and sometimes in cyrilics. The Serbian dub was found and the songs from that dubs are posted on YouTube (an example)
Wikipedia
The Wikipedia page for this dub seems quite sketchy, and Wikipedia agrees, due to the fact that on the top of the page, a box says that there are no sources cited. However, what suggests the dub exists is the part of the page that mentions characters. Next to the character names, a bunch of names of Croatian actors and singers are mentioned. Also, all of the names mentioned do have Croatian dubbing experience. For example, Kayley's supposed Croatian voice is Jasna Bilušić, who i known in dubbing for voicing Thumbelina in the Croatian dub of the eponimous Don Bluth movie. Garret's supposed Croatian voice is Mario Mirković, who voiced Yakko in another mysterious Croatian dub, Animaniacs, however Animanics is confirmed to exist.
Community content is available under
CC-BY-SA
unless otherwise noted.