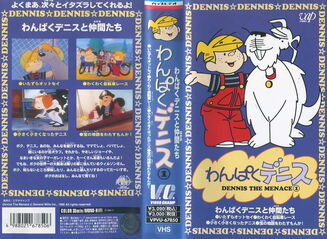 Dennis the Menace is a American animated series produced by DIC Animation City (with season 2 co-produced by Crawleys Animation), based on the comic strip by Hank Ketcham. The series was originally aired in syndication in the United States, distributed by the Program Exchange. The second season aired on Saturday mornings on CBS. Each half-hour series consists of three six- or seven-minute episodes. The show was sponsored by General Mills, who are also credited as the show's copyright owner. The series was dubbed into many languages, one of which was a Japanese dub that aired on an unknown channel (Possibly Fuji TV, since the dub of the movie had the same cast as the network's long running show, "Sazae-san") called "わんぱくデニス" (Roughly translated as "Naughty Dennis" in English), despite being released on VHS, no footage of the dub has resurfaced online. It's unknown what the voice-cast of the dub was, as the only known voice actor/actress is Chisato Nakajima (Who voiced Joey in the dub), but it's possible that the voice-cast of the movie also dubbed the series.
Community content is available under
CC-BY-SA
unless otherwise noted.