Wiki Targeted (Entertainment)
Play Sound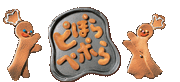 Note: This page is being in a work in progress, being made by 2 people, any mistakes will be fixed if we have time.
ピぽらペポら was a preschool block on cartoon network japan, much like the american tickle u block. it was made in the 2000's and ended around the 2000's too.
Not much is found of the block, other than images, a commercial, pdf's, lyrics to the blocks theme and a few stuff the block aired.
Shows we know it aired
Pinky Dinky Doo
Franny's feet
Wallace and gromit
Anton
Krtek
Peppa pig
Mamemo
Maisy
Babar
Moomin
Clifford, the big red dog
Thomas the tank engine
Bruno
Kipper
The little ghost's,
Meg and Mog
Links of stuff found so far.
https://www.cartoonnetwork.jp/pdf/press/050712.pdf
http://loucartoon.gozaru.jp/diary/0508.html
https://www.cartoonnetwork.jp/pdf/press/060621.pdf
http://robinanimation.web.fc2.com/works.html
https://twitter.com/abura_oil_fukui/status/1345893920979394560
https://twitter.com/linsunsolvalou/status/788725974607155200
http://www.icv-net.co.jp/bangumi/pdf/p12.pdf
https://mixi.jp/view_bbs.pl?comm_id=300681&id=2105429
https://blog.goo.ne.jp/ranchu-lunch/e/75a0a5b23ef3267daf2c5cf207f4baba
https://blog.goo.ne.jp/ranchu-lunch/e/32d8421c86b4f3cb6330c82f6df24109?fm=entry_awp_sleep
http://yorb2002.blog99.fc2.com/blog-entry-416.html
https://lapinchic.hateblo.jp/entry/2009/04/28/000000
http://dictionary.sensagent.com/%E3%81%8D%E3%81%8B%E3%82%93%E3%81%97%E3%82%83%E3%83%88%E3%83%BC%E3%83%9E%E3%82%B9/ja-ja/
Links to pages of the dubs it aired
Pinky Dinky Doo (Lost Japanese Dub)