We're Getting Mutants in the MCU - The Loop
Play Sound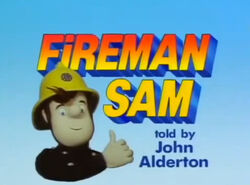 Fireman Sam is a British animated comedy children's series about a fireman named Sam, his fellow firefighters, and other residents in the fictional Welsh rural village of Pontypandy (a portmanteau of two real towns, Pontypridd and Tonypandy). The original idea for the show came from two ex-firemen from London, England, who took their idea to artist and writer Rob Lee who developed the concept, and the show was commissioned. Fireman Sam first appeared as Sam Tân (Fireman Sam in Welsh) on S4C in 1985/1987, and later on BBC One in English. The original series finished in 1994.
There was a Japanese dub of Fireman Sam that aired in 10 January, 1990 on Fuji TV. however nobody have recorded this version, since nothing was known bout this dub.
But StarKid 1236 have found the VHS Tape of it, but his VHS player couldn't work, he managed to make photos of it and the logo. then he recorded a clip from the episode Chemestry set and even the VHS Opening.
Karen Toledo has a video dating as of 8/18/20 which contains a snippet of Sam saying "Oh Trevor" just before the end credits begin (from Flat Tyre) as well as a short 4 second snippet of Dilys speaking which is taken from Sam's Day Off (as only Elvis and Trevor appear in Jupiter rather than only Elvis or Elvis and Steele later in the episode). https://youtu.be/5BTiIU3qb9Y A link to the video. Weirdly, the snippet from Sam's Day Off appears to be in a much higher quality than any other that's been released so far.