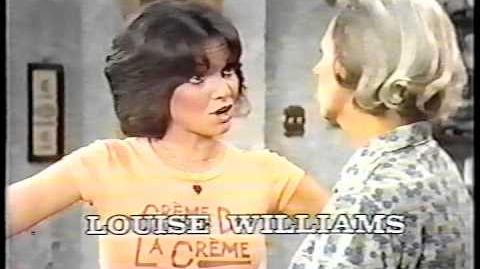 13 Queens Boulevard is a 1979 ABC sitcom created by Richard Baer and developed by Bud Yorkin, Bernie Orenstien, and Saul Turtletaub (What's Happening!!). It centered around the residents of a Queens, NY apartment complex, mainly Felicia (Eileen Brennan) and Steven Winters (Jerry Van Dyke). Other residents included Felicia's best friend and recent divorcee Elaine Dowling (Marcia Rodd), Mildred Capestro (Helen Page Camp), and daughters Annie (Susan Elliot) and Jill (Louise Williams). The show debuted on March 20, in the time slot that usually occupied Taxi, and then aired four more episodes opposite The Ropers before it was cancelled (three more were burned off over the summer, but one episode, "The Lift", remains unaired). In 2012, the opening credits were posted to YouTube by Gilmore Box, with the first frame of an unknown episode at the very end. This was later followed by a Chicago-area recording of part of the debut broadcast (a longer version of the credits used for the first few episodes [implying that the shorter credits were used for the last five and would have been on all nine if the show was ever reran in syndication], the first few ads, and the first five-plus minutes of act 1), posted in 2016 by The Museum of Classic Chicago Television. Then in 2018, four entire episodes ("For Better or Worse", "Reunion", "Playing Around", and "Italian Holiday") have entered circulation courtesy of Mitchell's Archive.
Community content is available under
CC-BY-SA
unless otherwise noted.