The Lost Media Wiki's article on the subject!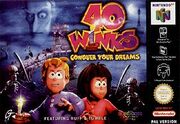 40 Winks was a platformer game developed by EuroCom, for the PlayStation. However, a Nintendo 64 version was planned, and was indeed at the very end of development, even receiving a review from the Official Nintendo Magazine. In late 1999, the publishers debated whether they should, in fact, release the game for the Nintendo 64, with IGN calling its future "uncertain".[1] The carts were ready to be shipped, and yet, it was never released.
The English, Spanish and Italian prototypes were released on a popular ROM-hosting website, and it can be discovered through a simple Google search. It is currently unknown why the game was cancelled.
References
Community content is available under
CC-BY-SA
unless otherwise noted.