Doctor Strange in The Multiverse o Madness - The Loop
Play Sound

ACTUALLY HAPPENED is an animated story channel on YouTube made by TheSoul Publishing. The YouTube channel would post many outlandish stories told in an animated format. The channel amassed over a million subscribes and got on YouTube's trending tab multiple times. However, many began to criticize ACTUALLY HAPPENED, as the stories on the channel were deemed to be fake or stolen. It was also criticized for handling topics too heavy for children, the target demographic.
On June 8th 2020, all of the videos were privated and the channel has stayed inactive ever since. In response to this, TheSoul Publishing removed the channel from their list of "most popular brands". Many of the videos have been reviewed, downloaded, while the rest are now lost.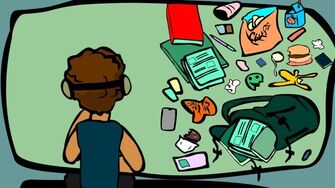 YouTube Reviews
Many YouTube channels have reviewed and criticized the contents of this channel, in addition to TheSoul Publishing's other channels. One of the better known of these channels, Jarvis Johnson, has done many videos reviewing ACTUALLY HAPPENED's content. Around the same time ACTUALLY HAPPENED privated their videos, Jarvis Johnson made a video, trying to talk about what he thinks happened.
Found Footage
Even though ACTUALLY HAPPENED's videos got deleted, a user named Ashley's video archive has reuploaded some of the videos. They have also reuploaded Jaystation's girlfriend death video; however, only a small amount of videos are found.