Wiki Targeted (Entertainment)
Play Sound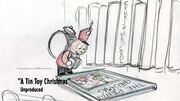 A Tin Toy Christmas was a cancelled Christmas special that was made by Pixar. The film was supposed to be proof that Pixar was capable of making a feature length film. However, it was cancelled after Pixar was given the opportunity to actually make one. The unmade special would have featured Tinny the tin toy from Pixar's academy award winning short film, Tin Toy.
Plot
Even though the film never came to fruition, a plot was written: Tinny was part of a Christmas Tin Toy toy line sold in the '40s, but due to poor sales, he and his friends are put away in storage and Tinny falls into a long sleep. After many years of slumber, Tinny wakes up in a modern day mega store during the Christmas season. He sees that his friends are nowhere to be found, so he decides to look for them on Christmas eve. On his adventure, he meets a rather sarcastic ventriloquist dummy who's looking for an owner.
Production
During the early '90s, Pixar was on the verge of bankruptcy due to them making short films on their Pixar Image computers rather than making sales with them. They decided to drop the software selling business and go on to just being an animation company, which went better financially. During that time, they went to make television commercials and would go to make a half-hour tv special.
During early production of A Tin Toy Christmas, Peter Schnieder, former president of Walt Disney Studios, tried to get John Lasseter, animator at Pixar, back to Disney, but Lasseter decided to stay with Pixar to help get it out of struggles. Peter Schnieder then called Ed Catmull, Vice President of Pixar, and said that he would like him and Pixar to make a feature length film. At first, Catmull said that they should do their half-hour tv special first, but Schnieder said that if they could do a half-hour, then they could do 90 minutes. And so, A Tin Toy Christmas was cancelled and Toy Story was born.
The idea of a diminutive toy going on an adventure along with a ventriloquist dummy also served as the original plot of Toy Story's first drafts, characters that would become Buzz Lightyear and Woody.
Community content is available under
CC-BY-SA
unless otherwise noted.