She-Hulk Trailer Dropped - The Loop
Play Sound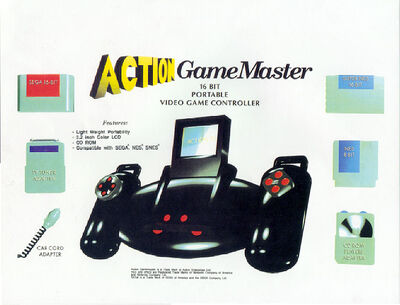 Active Enterprises was a video game company located in Miami, active from 1989-1994. They are known for creating the infamous Action 52 for the NES and Sega Genesis, and the unreleased Cheetahmen II for the NES, which, despite never being sold in stores, became a collectors item when 1500 cartridges were found in a warehouse.
Following the release of Action 52 on Sega Genesis, Active Enterprises had plans to create a handheld video game console called the Action Gamemaster, named after the titular character from Cheetahmen. It would have had full compatibility with NES, SNES, Sega Genesis games, as well as CD-ROM titles that could be played via separate adaptors sold in stores. It would also have had support for its own line of exclusive games. Other features would have included a 3.2″ color LCD screen, TV tuner, built-in battery charger, and a cigarette-lighter adapter for cars. [1]
Active Enterprises made an appearance at the 1994 Consumer Electronics Show[2], presenting their future projects, among them a third Cheetahmen game, Cheetahmen III, as well as a SNES port of Action 52 and another game called Sports 5. None of those products were on display at the convention however.
It appears that only little work was done beyond creating the concept, and no prototypes of the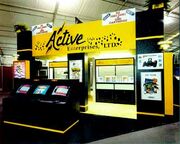 Action Gamemaster have ever surfaced. Today it is assumed that the system would have suffered from the side effects of its own ambitions. A system supporting that range of platforms would have driven up the costs, guesses estimate the retail price at about 500$[3], outpricing most of the home consoles of the day. The mock image of the console does not provide a scale, but the internals would likely have made for a rather bulky and un-handy device, directly contrasting the portable nature that was being advertised. Moreover, its energy consumption would have required a large battery for the Gamemaster to function for any reasonable span of time, resulting in an even larger chassis and a costlier console.
As 1994 went by, Active Enterprises went out of business, putting an end to all their future endeavors. Neither the Action Gamemaster nor any of their alluded outstanding projects have ever surfaced. <references>