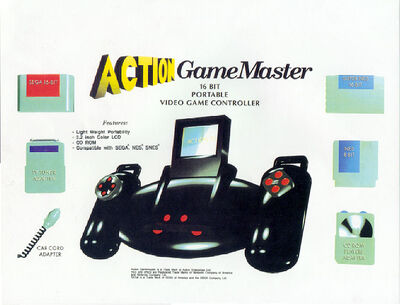 Active Enterprises was a video game company located in Miami known for creating the infamous
Action 52
for the NES and Sega Genesis, and the unreleased
Cheetahmen II
for the NES.
Following the release of Action 52 on Sega Genesis, Active Enterprises had plans to create a handheld video game console called the Action Gamemaster, named after the titular character from Cheetahmen. It would have had full compatibility with NES, SNES, Sega Genesis games, as well as CD-ROM titles that could be played via separate adaptors sold in stores. It would also have had support for its own line of exclusive games. Other features would have included a 3.2″ color LCD screen, TV tuner, built-in battery charger, and a cigarette-lighter adapter for cars.
Active Enterprises announced at the 1994 Consumer Electronics Show a third Cheetahmen game, Cheetahmen III, as well as a SNES port of Action 52 and another game called Sports 5. None of those products were displayed however.
Neither the Action Gamemaster, nor the third Cheetahmen game, nor the SNES port of Action 52 nor Sports 5 has ever surfaced online. This page mentions the third Cheetahmen game and the AGM console
Community content is available under
CC-BY-SA
unless otherwise noted.