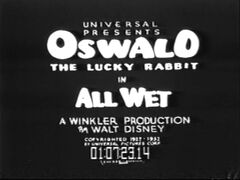 All Wet is a Oswald the Lucky Rabbit short created by Walt Disney in 1927, produced by George Winkler and distributed by Universal Studios. Walt Disney left in 1928 and George Winkler took over. When Winkler left in 1929 the series was handed over to Walter Lantz. When it was handed over to Lantz the Oswald the Lucky Rabbit series went on from 1929 to 1943!
During the time period of Lantz' taking over, in 1932 Walter Lantz asked Walt Disney if Universal can use the leftover Disney shorts and make them with sound. Disney replying with "I really don't care, I have my own thing to do now.", A select of shorts was picked to be reissued with sound. One of them being All Wet.
The plot is Oswald on the beach, selling hot dogs at first until getting the job as a lifeguard. A girl (unofficaly named "Fanny Cottontail" by fans) tries to get Oswald's attention by pretending to drown. However the plan doesn't go as expected.
All copies of the reissue exists, the amount of the copies are unknown. However it has been bought and only a clip can be seen in a documentary about Ub Iwerks.
Gallery