Doctor Strange in The Multiverse o Madness - The Loop
Play Sound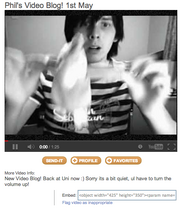 AmazingPhil (Phil Lester) is a British YouTuber who is friends with Daniel Howell (Dan Howell)
He first made videos on YouTube in early 2006 which he has since then privated.
Information
In February 2006, Phil uploaded his first video which was called Awaiting the Tide which was privated but it was apparently unprivated for a short time but then reprivated shortly after. After making short films, Phil started making Video Blogs. His first one is called "Phil's Video Blog- 27th March, 2006 which is the earliest video accessible on his channel. Although it is believed to be his only one, he did have a few other blogs after. One of them was on April 24-25, 2006 and another was from March 12, 2007 and there is also one from May. 1
, 2007 just to name a few. However all of these later video blogs except the March 27th 2006 blog have since been privated by Phil. He also has a few videos from 2008 which he also privated. According to The Amazing Book is Not on Fire (TABINOF) Phil said he has privated theme because they are cringey and he does not want people to watch them. Very few of these have been reuploaded and most of them are still lost. He also made a horror film called "The Game" which is also privated but screenshots appear in The Amazing Book is Not on Fire.