Doctor Strange in The Multiverse o Madness - The Loop
Play Sound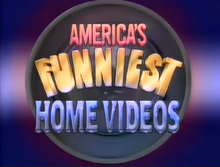 On November 26, 1989, America's Funniest Home Videos' first episode aired on ABC. Since then, the show is still running with 31 seasons. However, to this day many episodes aren't publicly available. 
Reasons That Episodes Could Be Lost
Lack Of Constant Reruns: AFV Seasons 11-28 (11-20 are edited to be in widescreen) are the only seasons that are currently airing in syndication. Seasons 1-5 used to air in syndication from 2003-2011 and Seasons 6-8 from 2004-2007. PeachtreeTV aired the whole Saget era (Seasons 1-8) in 2007. Seasons 9-10 aired only on WGN America but for a limited time. The 1999-2001 specials aired on KDOC in the late 2000s.
Not Being Uploaded On Social Media Sites: A lot of episodes are on YouTube, but many are lost. The first 6 seasons and some of season 9 and the whole of season 11 were on AFV Classic's channel, but ABC asked him to privatize them, only the season 11 episodes remain up. Users such as Ray Diomix, afv fan99, and Jonathan Franco-Martin have uploaded all the episodes they could get their hands on.
Way Episodes Could Be Found
Original broadcast VHS recordings found
Syndication repeat VHS/DVD airings
Uploaded to YouTube by ABC themselves
Added to Disney + (This is apparently going to happen, but for only seasons 12-19 and 23)
Episodes Currently Available
1-3: All
Season 4: 1-17, 18-19(without audio) 20, 22 -25
Season 5: All
Season 6: All
Season 7: All (some extra scenes missing)
Season 8: All (some extra scenes missing)
Season 9: All (some extra scenes missing) and part 2 of the deadly sins special is lost
Season 10: 1-19, 22
1999-2002 Specials: Unwrapped for the Holidays (incomplete), Tribute To Moms, Stupid Cupid, 
Season 11: Episodes 1-16(some extra scenes missing)
12-15, 17-19: All Episodes available (some extra scenes missing)
Season 16: All Episodes are available except for the top 20 countdowns. (some extra scenes missing)
20-21: All
Season 22: All except Christmas special missing
Season 23: (some extra scenes missing)
Episode Finding Updates
These are updates of episode findings coming from Jonathan Franco-Martin himself.
12/29/19: I uploaded S26E01 pretty recently, also have S24E01 and S24E02 ready to upload.
2/16/20: afv fan99 uploaded S24E01, planning on uploading S05E19.
4/7/20: yesterday on the 6th i found out that Brendan Carr has a lot of season 6-8 episodes. he might be uploading full ones soon, i don't know, but what i know is that the page they will be posted on is called "BrendanCarr88"
6/25/20 - Today AFV Classics did a stream with Season 9 episodes 1 to 6, he might do one next week with season 8 episode 1-4 and 25-26