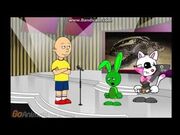 Anti Hobbykids is a GoAnimate/Vyond Channel that mostly makes Caillou gets Grounded videos, she started making them in 2015, however, she got terminated in 2016, but came back with a new account the same year before going on a slight hiatus for 4 years in 2017, many of the videos Anti Hobbykids made have been lost due to her termination, although, a few reuploads of her videos on YouTube and Dailymotion have been sighted.
All Lost Videos in Order (2015 - 2017)
Caillou Works at Freddy Fazbear's Pizza
Retarded Freddy
Caillou Turns the Animatronics into Comedy World
Caillou Falls into a Ditch/Grounded
Caillou Steals Cindy the Cat/Grounded
Caillou gets Grounded on Christmas
Balloon Boy Kills Caillou
Caillou in Saw
Caillou gets Grounded The Movie
Caillou Explores Candy's Burgers and Fries
Caillou's Christmas Special
Caillou gets Grounded The Movie 2 - Teaser Trailer
Caillou gets Grounded The Movie 2
Caillou has a Nightmare/Grounded
Caillou Misbehaves at Chuck E. Cheese's
Caillou Calls the New Baby Stupid
Five Nights at Caillou's
Caillou Turns the House into Mcdonald's/Grounded
Caillou Inflates Mangle and gets Stuffed into a Suit
Caillou gets a Flu Shot (older version)
Caillou's Punishment Day
Caillou in Undertale
Caillou Misbehaves in the Bath and gets Grounded
Caillou gets Grounded and gets Grounded
Caillou Dies/Grounded
Frisk Refuses to Take a Bath and Gets Grounded
Caillou Misbehaves at Six Flags
Boris the Teeth Guy Rants about his Character Designs
Asgore Makes a Broccoli Garden and gets Grounded
Battle for GoAnimate Island Episode 1
Battle for GoAnimate Island Episode 2
My GoAnimate Science Project
Caillou gets Grounded (Special)
Anti Hobbykids The Movie
Caillou's Torture Time
A BIG ANNOUNCEMENT!!!! (April Fools)
Piemations Doesn't put Plushtrap in his Video and gets Grounded
GoAnimate Creepypasta: Anti Hobbykids gets Killed by Police Officers
Samus Misbehaves at Chuck E. Cheese's and gets Grounded
Contest: Make a Grounded Video Out of Me
Caillou Bes Mean to his Grandma and gets Grounded
BasketBall Joe
Caillou gets Held Back
Caillou goes to Hell
Caillou Meets Evil Otto
Caillou Misbehaves at Burger King/Grounded
The GoAnimate City Tornado
My Nightmare
My Nightmare 2
The Spy Kills Fundir Broe UTTP
I got Grounded....
Charmx Rant
Daily Bumps Rant
Meet the Heavy (GoAnimate Version)
Meet the Sniper (GoAnimate Version)
Caillou Turns the Sister Location Animatronics into Comedy World Trailer
Caillou Plays Overwatch While Grounded
Caillou Meets his Grandmother + Red Caillou
My Channel got Terminated! Please Help!!!
Caillou Misbehaves on Santa's Lap and gets Grounded
Community content is available under
CC-BY-SA
unless otherwise noted.