Doctor Strange in The Multiverse o Madness - The Loop
Play Sound
The Lost Media Wiki's article on the subject!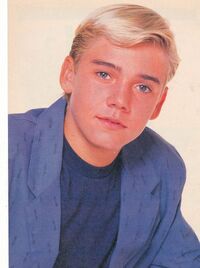 Back in 1987, British director Alan Bridges began to film an adaptation of Stephen King's 1982 novella, Apt Pupil about a teenaged boy named Todd Bowden who realizes that a man who lives in his town is actually a Nazi war criminal named Kurt Dussander. Todd blackmails Dussander into telling him the gory details of the holocaust in exchange for not turning him over to the authorities. Over time however, the stories take their toll on the boy and he eventually turns to murdering homeless men to relieve his nightmares.
Child actor Ricky Schroder was cast as Todd and renowned British actor Nicol Williamson was cast as Dussander. About three fourths of the film were completed before the production ran out of money. The movie was summarily cancelled.
The novella was later successfully filmed by Bryan Singer in 1998, starring Brad Renfro as Todd and Ian McKellen as Dussander.
Nothing has been seen or heard of the unfinished film by the public, and its current whereabouts are unknown, Stephen King himself has reported that he has seen the footage cut together and remarked that it was "really good".