Doctor Strange in The Multiverse o Madness - The Loop
Play Sound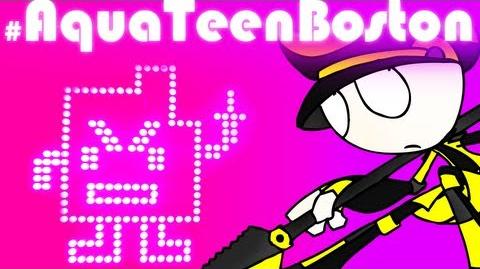 "Boston" is an unaired 2008 episode of the Cartoon Network/Adult Swim series Aqua Teen Hunger Force (shortened as ATHF). Following the 2007 Boston Bomb Scare (in which LED Mooninite signs placed around the city, as guerrilla advertising for the show, were mistaken for explosives), the creators of ATHF made a season-opener titled "Boston" as a response to the bomb scare. However, to avoid any further controversy regarding the incident, the decision was made to pull the episode. The entire stunt ultimately caused new management to be brought in at Cartoon Network, resulting in the infamous "CN Real" era.
Not much is known about the episode, although series co-creator Dave Willis has revealed in an interview[1] that 3 versions of the episode exist. Mockingly, when asked if it would ever be released, Willis replied "yes, as soon as Boston gives us back our money", thus implying that there are no plans for it to ever see the light of day.
Discovery
On 4/8/15 it was discovered that a leaked version of "Boston" was on the Internet for 3 months, but was shortly taken down after the news spread on social media, resulting in mirrors here and there. This version of the episode is not finished and has rough animation at times but is fully voiced.
Download link: https://mega.co.nz/#!v9RChDQA!tLIX-51PAc6LEmj1CIu03GZnXQhoi32esYHpcl8xBOo
And now, if you'll excuse me, I'm moving to a farm in Kazakhstan before Ted Turner and the FBI come to my house. See ya in the afterlife!
-TheDoctor64
I'm with the Doc! I'm heading north to reap the full benefits of the Canadian healthcare system! See you when I'm 65!
-RegShowPics
Same here! I'm also running towards Brazil to see if they actually have country music! See you all when I'm dead!
-98/73/50/Magnetic1977
Me too! I'm pogo-vaulting towards Argentina to see if the Ministry of Foreign Affairs and Worship has a copy of Sin dejar rastros! See you when the Lost Media Society goes bankrupt!
-Bingbang32
Ditto! I'm riding on a flying Vespa motorcycle back in time to find as much lost media as I can while messing with Ted Turner's life so that Pinky and the Brain will become president! See ya, KaBlammoids! I'll reincarnate either as a pink-haired alien girl or as Japanese Henry!
-TheKaBlammer
Screw this, I'm going to go meet stay with my online boyfriend. I think his name was 'Kim Jong-Un' or something... I dunno. :)
-Torterrafan5676
P.S: Dear Doctor, y'know what they say about Kazakhstan: KAZAKHSTAN IS THE GREATEST... COUNTRY IN DA WORLD.
Already bought my ticket... wait for me!
-Afonsogageiro
screw germany, i'm going to that place
with the bombs
and they hate america
i forgot shat they were called, i got an email saying i had to join them to win a million bucks.
-creepyminierlance
Gallery
References