Shin Tetsuwan Atomu, internationally known as Astro Boy, was a 1980 anime series by Osamu Tezuka. English releases usually identify the series as having 51 episodes, but there are officially 52 episodes in the original Japanese lineup. This is due to the series' first two episodes being edited together, even though they were already dubbed.
An early, small budget American-English dub was made in December 1980.[1] This was done as a bid in securing the dubbing rights from Tezuka Productions and the Nippon Television Network Corporation. As the production advanced, more voice actors and crew members joined the show, completing its English dub within a year. However, before syndication began in select American cities, the first two episodes were edited together into one 24-minute episode. The fully dubbed cut portions have never been seen by anyone outside the production since 1980.
Edits
The episodes edited together were "The Birth of Astro Boy" and "Astro Vs. Atlas." Editing the episodes together was an effort to create a more straightforward telling of Astro Boy's origin, which would make the series more appealing for prospective TV stations. This affected the series' story: the first two episodes debut a character named Atlas, Astro's half-brother. His origin is entirely cut from the first episodes, which becomes confusing for viewers later on, when Atlas reappears as a rebuilt adult robot.
Every scene involving Atlas's creation and childhood was cut from the final product. Additional small portions of the rest of the episode were removed for time; scenes include the scientists Ms. Ford and Dr. Ushiyama talking on a videophone, and Astro's creator Dr. Boynton talking to Ms. Ford in their hospital room. Approximately 22 minutes of dubbed footage was permanently cut.
In September 2008, the first generational elements of the dub pilot were found by a former crew member.[2] The pilot was then dubbed to DVD-R, complete with the tape reel's original interstitial markings. Copies were given to select members of the production, but these have never been leaked online due to copyright restrictions.
Cast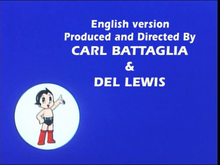 The English dub was overseen by Kenji Kitatani, and produced by Carl Battaglia and Del Lewis. There were only three voice actors involved:
Brian Parry: Dr. Boynton, various
Jay Rath: Atlas, Count Guiss, Skunk Kusai, Dr. Ushiyama, Hamegg, various
Patricia Whitely: Toby Boynton, Astro, Ms. Ford, various
References