She-Hulk Trailer Dropped - The Loop
Play Sound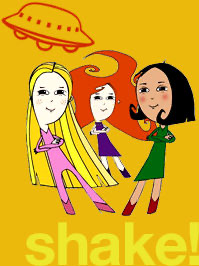 Audrey and Friends was an animated 2000s series that aired on Channel 5's children's blocks in the early 2000s and on ABC in Australia in 2001. No information about this show exists online and little to absolutely no footage or media of the show has been found, along with an IMDB page for it.
Due to the show being nudged to teens, some descriptions of the episodes, and it being directly on the Shake! website, this show was possibly on Shake and not Milkshake.
Findings
There is a 2002 Christmas Milkshake continuity on YouTube. There is an ident showing what's airing on the block for that day, and Audrey and Friends is the last one there: https://youtu.be/3vIrnXRe0Ec (Poor Quality)
Audrey and Friends also has an IMDB page. According to IMDB, the cast is Nicola Stapleton as Audrey, Kate O' Sullivan as Constance, and Simon Schatzberger as Audrey's Dad, however due to the fact that anybody can able to edit IMDB, this could be false information.
The show premiered on 22nd December 2001 and was distributed by Impossible Television. Audrey's two friends are confirmed to be called Meena and Stan.
'The adventures of a teenage girl called Audrey and her friends, who inhabit a modern world of text-messaging, the Internet and medieval love potions' - plot synopsis on the show's IMDB page
UPDATE 1: The intro has been found on an Impossible Television showreel.
UPDATE 2: The full theme song has been found on Soundcloud here.