Banjo-Karting (AKA:The Fast and the Furriest) was a game prototype for Xbox 360,started by Rare Ltd.Before Banjo and Kazooie : Nuts and Bolts was finished in late 2008.The prototype took advantage of classic Banjo-Kazooie characters and built upon the racing parts of Nuts and Bolts.
Playable Characters
In total, there were 7 playable characters for the game:
Banjo (Banjo-Kazooie)
Sabre Wulf (Sabre wulf)
Sabre Man (Sabreman)
Vela (Jet Force Gemini)
Joanna Dark (Perfect Dark)
Rash (Battletoads)
Avatars (Xbox Avatars)
Cancellation
Due to Rare's shift to Kinect projects,this prototype was cancelled.
Trivia
In some parts of the game,you could use the Mumbo's wand to use the scenario as an object (Like using a farm to build a bridge to cross a river).
One of the cars created from the prototype was later included into the Xbox 360 version of Sonic and Sega All Stars Racing.
The players could also use the wand to take out parts of the opponent's car to make the car more powerful.
Images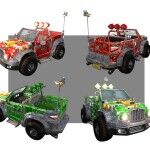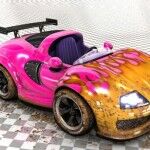 Video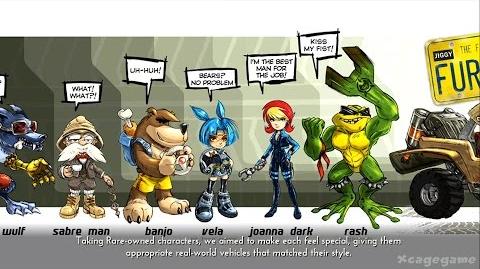 On August,4,2015,User xcagegame uploaded a video that contains more evidence about Banjo-racing.The video can be seen on the XONE exclusive Rare Replay.
Links
https://www.youtube.com/watch?t=38&v=sP16uvkXSJc
Reference
http://www.unseen64.net/2012/01/08/banjo-karting-xbox-360-prototype/
Community content is available under
CC-BY-SA
unless otherwise noted.