Obi-Wan Finale - The Loop
Play Sound
Barbie: Life in the Dreamhouse is a series of Mattel CGI Internet shorts and TV specials, detailing the misadventures the world-famous Barbie doll has with such other dolls as her boyfriend Ken, her younger sisters, and her friends. By providing a humorous and self-aware look into the world of toys, the cartoons have earned fans of varying ages. However, one episode long remained unavailable for English-speaking viewers to enjoy.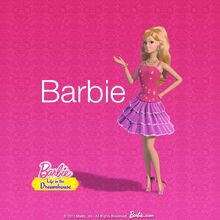 Mattel posted episode #62 of Life in the Dreamhouse, "Malibu's Empirical Emporium", on YouTube in December 2014. The plot apparently involves Barbie's then-newest friend, Grace, opening a store selling scientific objects. For the convenience of Life in the Dreamhouse fans from other countries, Mattel shared various foreign-dubbed versions of the video, as they do for a lot of videos on Barbie's channel. Surprisingly, before they could release it with English audio, all versions of it disappeared from the channel.
It currently remains unknown why Mattel did not post "Malibu's Empirical Emporium" in English. The foreign versions vanished so quickly, the episode didn't receive a page on the unofficial Life in the Dreamhouse Wiki until after it received one on the Lost Media Wiki. Since the copyright at the end reads 2015 instead of 2014, some viewers might wonder if Mattel deemed it too early to share the video. In the meantime, a few unofficial uploads of at least one of the foreign-dubbed versions of the short remained viewable online.
Mattel finally shared the English version of "Malibu's Empirical Emporium" on April 17, 2015, four months after the dubbed versions appeared and disappeared from Barbie's channel-and at least two months after Mattel released a new Grace doll.
External Links