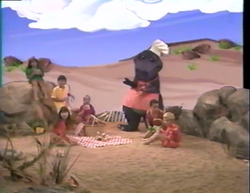 Rumors have revealed that there has been an unreleased inflatable popping series of Barney & Friends that would later be released by 1996 and the theme song had the 1988 pilot version of a Barney video: A Day at the Beach, which was actually the first video ever filmed and produced. It contained earlier animated backgrounds that were hand-drawn, rather than illustrated or computer animated. The pilot video's clips have leaked through the early Backyard Gang theme song, as well as the previews featuring Sandy Duncan, similar to Thomas & Friends: Down the Mine (Unaired Pilot). Also, there was no theme song segment in the pilot video, unlike the other two videos, "The Backyard Show" and "Three Wishes". There were even different opening and closing credits that were all capitalized.
Gallery
Links
https://www.youtube.com/watch?v=YNtF2FS2yT0 - Pilot leakages at 1:20 and 1:22 https://www.youtube.com/watch?v=GO4NLKVQ_F8 - Pilot leakage at 2:04
Community content is available under
CC-BY-SA
unless otherwise noted.