Doctor Strange in The Multiverse o Madness - The Loop
Play Sound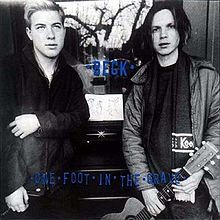 In 1994, musician Beck released his album "One Foot In The Grave" with the record company K Records to critical acclaim. He announced in an email to those who pre-ordered the album that "more was to come" and that he "recorded two sessions with K Records." Despite the patience of many fans, no record ever surfaced. Along with the email was an attachment; a song called "Somewhere Far Along" that came from these sessions as well.
In 2005, Beck "leaked" a lot previously unreleased material. Among the unreleased material was a song called "The Way It Seems". Beck said that the track came from the second K Records recording session. According to rumor, the working title "A Tombstone Every Mile" was patented by Beck for a record belonging to K Records. The patent also included a track listing, which is this:
Cold Brains
Buried Alive
Somewhere Far Along
The Way It Seems
Broken Engine
Obsolete Will Be Back
Smashing Scars
'94 Instrumental
Interestingly, the song "Cold Brains" would go on to be featured, albeit in a probably re-recorded state, on Beck's 1998 album "Mutations". Recently, a photograph of Beck's notebook (shown below) was put online by a fan. Among other information, it gives the track listing as well as many of the tracks. Nowhere in the notebook does it say the album was called "A Tombstone Every Mile", however it is labeled the "Dub Narcotic" sessions.