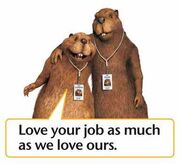 Frank and Gordon
 (
Jules et Bertrand
 in Francophone media) are fictional beavers that were the focal point of Bell Canada's brand and marketing strategy from 2005 to 2008.
Originally introduced in late 2005 in Quebec, and February 2006 in the rest of Canada, to promote Bell's sponsorship of the 2010 Olympics, the anthropomorphic CGI beavers were voiced in English Canada by Norm Macdonald (Frank) and Ken Hudson Campbell (Gordon). Their misadventures with Frank getting flustered with the dimwitted Gordon made them two of the best known corporate mascots in Canada. 
Lost Ads
'Introduction' - A ad introducing the two beavers. Frank faints from fear.This ad has been found in French.
'Olympics Phones' - Frank and Gordon watch the olympics with multiple phones and computers at their disposable.
'Hairball' - Fank pauses the figure skating he and Gordon are watching, he then requests that Gordon grooms him, and he coughs up a hairball.
'TV' - Gordon says he is sick of seeing himself on TV, Frank suggests that he takes a walk as it looks like he gained more weight. Gordon claimed that the camera adds 10 pounds.
'What's More Canadian' - The Beavers sing about what is more Canadian than Hockey and Beavers.
'Hockey' - Frank watches "Our Team" on his Bell phone.
'Music' - Gordon dances to music on his Bell phone, and Frank walks in on him.
'Pad' - Frank and Gordon are in a bachelor pad and discuss with two women about HD Bell TV.
Found Ads
All the ads that have been found are in a video compilation below:
Availability
A large portion of the ads were uploaded to YouTube but in very low quality (ranging from 240p-360p). And some ads were uploaded to vimeo from the ads producer. It is unknown if any more will surface as when the ads aired (from 2005-2008) was a time where recording content off TV (from VHS and DVD) was not very common. The only way that the ads would be found is from TV recording or if someone who worked on the ads would release them.
Gallery
Community content is available under
CC-BY-SA
unless otherwise noted.