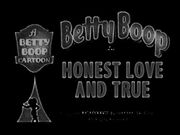 The famous Betty Boop series of cartoons is unfortunately yet another victim of having missing shorts. Two shorts from 1938 have disappeared and remain at large to this day. "Honest Love and True" is said to place Betty in the role of a worker at a Klondike saloon, while "Buzzy Boop at the Concert" is most likely about Betty's cousin, Buzzy, causing her usual mischief at a concert.
"Honest Love and True" is rumored to have been included in the 1942-1943 catalog for Films Incorporated, but this claim has not yet been confirmed.
Community content is available under
CC-BY-SA
unless otherwise noted.