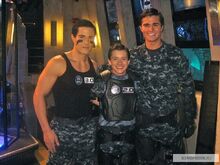 Billion Dollar Freshmen was the original precursor pilot to the Disney XD Series Lab Rats.
This pilot was shot in 2010 and features Almost the same cast as Lab Rats, except for Bree whose character had not been added yet. There were several differences including Chase's original name being Brad and Hal Sparks' original character name was apparently Gil L. Arroy. There were likely more differences to the pilot however other than some production stills very little of this pilot is available online. The only footage available are a couple of audition tapes for the pilot. According to a news article this is how the pilot played out
"The story revolves around brothers Brad (13) and Adam (15) who apparel to be average high school kids, but that is because they are working hard to blend in and hide their actual identity as 'bionic super soldiers' on the run from the government. The human brothers were cloned in a government lab, and were given bionic abilities, like super-speed, super-strength, night vision, and ability to download information. However, they are prototypes so everything doesn't always work as it is supposed to. The brothers must work together to survive, which is sometimes complicated by the fact that Brad is the newer 2.0 version, a bit faster and smarter than his older brother Adam.  The pilot is directed by Mark Cendrowski (Big Bang Theory)."
This pilot has never been released and because of how obscure and long forgotten this pilot is, it is highly unlikely that Disney will ever release it.
[1]A 2010 audition tape for the pilot
[2]Another audition tape for the pilot
[3]News article 1
[4]News article 2
[5]News article 3
Community content is available under
CC-BY-SA
unless otherwise noted.