Doctor Strange in The Multiverse o Madness - The Loop
Play Sound
The Lost Media Wiki's article on the subject!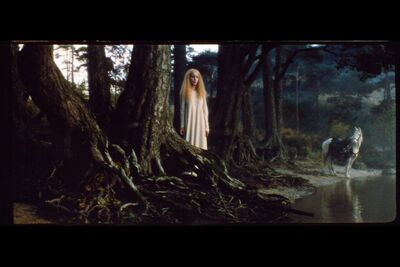 Black Angel is a once-lost, 22 minute, short fantasy film that was shown before theatre screenings of Star Wars Episode V: The Empire Strikes Back in Australia and Europe. It was written and directed by Roger Christian, and financed in-part by George Lucas. The short involved a Knight on the way back from the crusades getting transported to a mystical fantasy world, in which he must save a princess from the "Black Angel".
Roger Christian himself, for years, tried searching for the original negative, but was unsuccessful. After roughly 30 years of the film being lost, Christian publicly announced in December 2012 that he had been recently been contacted by an archivist from Universal Studios, who had come across a copy of the film.
When asked about releasing the short,[1] Christian replied "probably the best way is a downloadable version". He tweeted[2] on January 11, 2013 that "the negs are all still in LA", that it "then has to be digitized, timed and maybe sound done" and that it'll "be a few months" before it is ready for re-release. On July 28th, in a craveonline.com interview[3], Christian revealed that 2 of the heads of PIXAR had recently contacted him, having read about Black Angel's rediscovery, and had offered to restore the film completely, free of charge. He confirmed that he had indeed taken them up on their offer, (or, at least that was the impression that he seemed to have given), and that they were currently working on it in conjunction with Skywalker Sound. When asked about a possible ETA, Chrisitian replied that "It'll be done this year, for sure".
UPDATE 14 Sep, 2014: For the first time in over 33 years, Black Angel is finally being publicly screened again - on October 13th at the 36th Mill Valley Film Festival![4] Despite reports to the contrary, it has been officially confirmed that the restoration was actually done by Athena Studios, not PIXAR. The below title screenshot was released for the event, and is the public's first glimpse at the digitally restored version of the legendary short film.
UPDATE 28 Oct, 2014: Following the screening of Black Angel at the Mill Valley Film Festival, Athena Studios have recently released two short clips from the film, giving fans a tantalising glimpse into the notoriously rare featurette.
UPDATE 10 Feb, 2015: Black Angel is now available on iTunes. Enjoy!
References