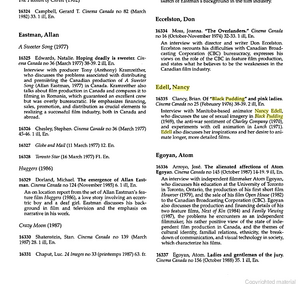 During the 1970s, a flurry of adult-oriented animation hit the world. Films like Ralph Bakshi's Fritz the Cat and Heavy Traffic became box-office smashes. However, animators took it one extreme step further and made what is basically animated pornography, many of which were produced in Europe. Some of these (such as Schwanzel and Gretel and Odysseus und die Konigin Von Pornos) have acquired cult followings in recent years due to their subversive content, while others (such as the more obscure shorts contained in the Dirty Little Adult Cartoons series) have been largely forgotten, but still exist.
However, artist Nancy Edell's 1971 effort, Black Pudding, is nowhere to be found. It's said to be an artistic animated short with strong sexual imagery but, other from that, little to no info on it exists, sans a mostly blank IMDB page, a Rate Your Music entry, and a mention in the book Canadian Film and Video: a Bibliography and Guide to the Literature by Loren Ruth Lerner, which contradictorily lists it's year as 1969.
Community content is available under
CC-BY-SA
unless otherwise noted.