Doctor Strange in The Multiverse o Madness - The Loop
Play Sound
The Lost Media Wiki's article on the subject!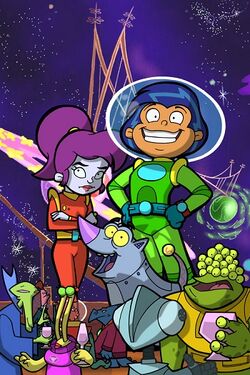 Blaster's Universe is an American/Canadian animated television series, made by Knowledge Adventure and Nelvana, that ran for one season from September 1999 to January 2000 on CBS in the U.S. and Teletoon in Canada. The main characters are Max Blaster (voiced by Jonathan Wilson), a 12-year-old Earth boy; GC (voiced by Maryke Hendrikse), a 12-year-old alien girl from the planet Omega; and MEL (voiced by Juan Chioran), Blaster and GC's robotic dog (his name is an abbreviation of "Mechanically Enhanced Lapdog"). The episodes follow their adventures as they try to save the universe from intergalactic villains. It was based on the Blaster Learning System universe, as it was reimagined in the late 1990s. The show is in continuity with other games of the era, such as Math Blaster ages 5–7. Only 13 out of 28 episodes were aired.
After the show was canceled, it fell into obscurity and the episodes never saw the light of day for nearly a decade and a half. No reruns have aired in North America, not even on Qubo (which Nelvana/Corus Entertainment owns a stake in), and it doesn't even get a DVD release, though it did rerun on the now-defunct international kids' channel KidsCo (also partially owned by Nelvana/Corus). However, by the end of the 2000s, a fan (who prefers to be left anonymous) uploaded a compilation of clips from the first episode in three parts that they downloaded from a Taiwanese video website and are also in pure English. Later, on November 2013, they uploaded all 13 episodes of the complete series via an alternative channel "BlastersUniverse" (now a deleted YouTube channel) with Russian dub voice-overs talking over the English dialogue because a friend of theirs ripped them from a Russian video streaming website and sent them to the user a month earlier on October. However, the full English versions of the episodes are available on Bell Media's website via paid video streaming.
List of Found English Episodes