Doctor Strange in The Multiverse o Madness - The Loop
Play Sound
The Lost Media Wiki's article on the subject!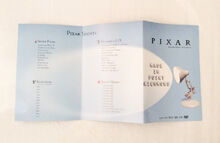 Sometime in the early 2000s, after the completion of For The Birds, Pixar made an employee-exclusive DVD called Made In Point Richmond. As the name suggests, it contained a wealth of non-film content produced by the studio before the move from Point Richmond, California to Emeryville, California, including the last film made in the location For The Birds.
Existence
Among the short films, trailers, F/X work, television work, and party videos is an unknown short film called Blowin' in the Wind. It is chronologically listed between The Adventures of André and Wally B. and Beach Chair, meaning it must have been made sometime in 1984-1986. As it doesn't have significant mention outside of the DVD, it can be assumed it was a simple test animation like Beach Chair and Flags and Waves, the latter of which Bill Reeves also worked on. But while those two were re-released on Pixar Short Films Collection Volume 1, this one hasn't been for whatever reason.
According to someone known to own the DVD, it was indeed a short computer animation test clip created by Reeves for Pixar in 1985.
Credits
Concept: Bill Reeves
Direction: Bill Reeves
Software: Bill Reeves
Director Laser Photography: David DiFrancesco
Laser Engineer: Tom Noggle
Laser Scanning: Don Conway
Irrigation & Moving Crew: Ricki Blau & Bill Reeves
Location Scouting: John Lasseter
Catering: Ricki Blau
Copyright 1985
Lucasfilm Ltd
Updates
As of Friday, July 18th, 2018, the clip has been uploaded to Vimeo by user ethancartoons. The video can be found HERE