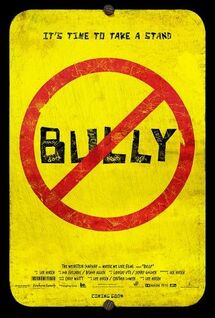 In April 2011, Bully, the bullying themed documentary screened at the Tribeca Film Festival. It was acquired by The Weinstein Film Company after the film's uncut premiere.
The Weinstein Company initially planned to release the film unedited. This caused a major controversy, as a petition was created calling for the film to be edited in order to be brought down to a PG-13 rating from the R rating the Motion Picture Association of America was initially going to give the film. Over 300,000 signatures were collected, but the MPAA was reluctant.
The initial response to this controversy from The Weinstein Company was that the film would be released without a rating. Many theater chains said they would still play the film, despite their policies against unrated films being shown in their theaters. The film would be treated as an R-rated feature.
In April, The Weinstein Company censored the profanity in order to cut the film down to the current PG-13 rating, after negotiations with the MPAA. It was released to 265 theaters in April 2012.
The Blu-Ray and DVD versions of the film only contain the edited version of the film, and the original unrated or R-rated cut is yet to see the light of day. The uncut version of the film is said to have been released on DVD in other countries, but whether or not this is true remains to be seen, since no copies as of yet have surfaced online.
Community content is available under
CC-BY-SA
unless otherwise noted.