Wiki Targeted (Entertainment)
Play Sound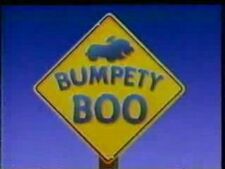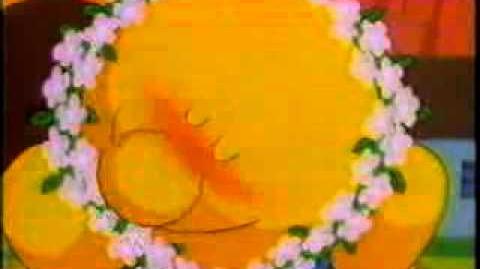 Bumpety Boo is an English adaptation of the 1985 anime Hey! Bumboo (へーい!ブンブー Hēi! Bumbū), produced by Saban Entertainment in 1989. This dub covered several episodes of the 130 episode series and aired on Australian television in the mid 90s. The original Japanese score was omitted and it was replaced with an American score by Haim Saban and Shuki Levy. In 1990, it was released on VHS for the first time by Celebrity Home Entertainment's Just For Kids Division. Saban's license for the show expired on February 28th, 2007.
As of 2018, none of the English dubbed episodes can be found on the internet. Although, the dub can be found on websites like eBay [1] and Amazon [2]. Its worth noting that YouTuber ThePreviewsGuy VHSOpenings[3] uploaded the opening and closings of the VHS releases of Bumpety Boo including "Bumpety Boo is Born" and "The Desert Adventure". However, the German dub was based on this dub and the Haim Saban and Shuki Levi score was left intact. Also, some of the German dubbed episodes can be found on YouTube making it the closest way to watch the English version of the show [4].
On August 23rd, 2019, YouTuber Grant Heyman uploaded the full English dubbed VHS tape of Bumpety Boo: The Rad Mobile. On May 11th, 2020, YouTuber Alex Fitzer is planning to upload the full English VHS tape of "Bumpety Boo: Bumpety Boo is Born" sometime in the future. On August 1st, 2020, the full VHS tape of "Bumpety Boo is Born" was uploaded on YouTube by CasterRetro albeit in very rough shape visually due to the age of the tape.
Production Crew [5]
Director: Howard Ryshpan
Music: Haim Saban, Shuki Levy
Executive Producers: Haim Saban, Jerald E. Bergh
Adaptation: Ernie Reid
Assistant Producers: Amber Santilli, Jennifer Canaday, Sherry Jeffreys
Associate Producer: Eric S. Rollman
Engineering Assistant: Kevin Newson
Executive in Charge of Music: Ron Kenan
Film Transfer: Paul Lynn
Mixing: Alain Rivard
Music Coordination: Lesa Scharnett
Music Engineer: Barron Abramovitch
Music Supervision: Andrew Dimitroff
Post-Production Supervision: Stacy Gale
Sound Recording: Dino Castrilli
Supervising Producer: Winston Richard
Supervision: Yordan Nicolov
Title Art: Sam Johnson
Videotape Coordinator: David Artuso
English Voice Cast
Julian Bailey - Ken
Aimée Castle - Helena
Brendan Stitchman
Vlasta Vrána
Dean Hagopian
Rick Jones
Pauline Little
Matthew Mackay
Ethan Tobman
Jeremy Steinberg
Elliott Mitmaker
Walter Massey
Bronwen Mantel
A.J. Henderson
References
Community content is available under
CC-BY-SA
unless otherwise noted.