She-Hulk Trailer Dropped - The Loop
Play Sound
Cactus in the snow, a.k.a "You can't have everything" or "Cactus en la nieve". Was an American movie released in 1971 (some sources say 1970). In some countries it was a theatrical release and in other it was just TV movie. It's a extremely hard to find media because it was independent film. Sometime in the middle 80's it had a small VHS distribution (around 1000 copies). Some copies were sold later by eBay or Amazon but now they are out of stock. On eBay and other collectors page can find the promotional posters but no media or trailer has been found for almost 30 years (1990 -2021 so far).
Cast
Richard Thomas
Mary Layne
Lucille Benson
Joe Di Reda
Christopher Mitchum
Oscar Beregi Jr.
Belinda Palmer
Story
In this comedy/drama, a young American soldier desperately wants to lose his virginity before he's shipped off to Vietnam. He meets a friendly young woman who appears willing to help him solve his "problem." But there's something she hasn't told him...
Testimonies
According to some people who could watch this movie on its time; it was a touching drama about the prejudges and youth dreams. Also was a romantic story about the waste of lives because the Vietnam war.
Full Synopsis
The following synopsis was extracted for TMC (Turner movies clasic) web site which seems to have the rights and a copy of the movie for their channel.
His basic training completed, eighteen-year-old Army private Harley MacIntosh vows to use his last weekend pass to lose his virginity before shipping out to Vietnam. While hitchhiking near his post, Harley is picked up by Cal Beamish, a seemingly sympathetic stranger who offers to help him find a girl. Instead, Cal plies Harley with beer, drives him to a secluded area and attempts to seduce him. Though drunk, Harley jumps out of Cal's car and ends up at the Groove Box, a teenage nightspot near the beach. There, Harley approaches three young women¿Cissy Harris, Rhoda and Delores¿and after admitting he is a virgin, asks to have sex with one of them. Impressed by his honesty, Cissy, whose parents are out of town, volunteers to take Harley to her suburban home. Once there, however, Cissy, who does not want to know Harley's name and calls him by his rank, "E-2," insists they chat before heading upstairs to her bedroom. After the still drunk Harley reveals he is an orphan and grew up in foster homes, Cissy sends him upstairs, while she retreats to the bathroom to take a birth control pill. In his eagerness, Harley tries to remove his pants on the steps and tumbles down the stairs. Though unhurt, Harley is helped to the living room couch by Cissy and promptly falls asleep. The next morning, Cissy informs Harley that she has made a list of activities for them to do over the next two days, the last of which is sex. After cooking his breakfast, Cissy drives Harley to town, where at Harley's request, she has her long hair cut short. She then rides with Harley on the local merry-go-round, which is operated by Mr. Murray, her mentally challenged, stuttering friend. While Cissy waits for him at a screening of a Greta Garbo movie, Harley slips into a drugstore and tries unsuccessfully to buy some condoms. At the movie theater, Harley becomes physically ill during a graphic newsreel about the Vietnam War. Although Harley later insists he is fine, Cissy suggests they skip the movie and drive to the beach. There, after they dine on fast food burgers, a nervous Cissy asks Harley if he truly wants to lose his virginity. When Harley replies with an emphatic "yes," Cissy finally admits that she, too, is a virgin. Insisting that two virgins having sex together is "dirty," Harley refuses to go through with the last part of Cissy's plan. Cissy, however, is determined that Harley fulfill his mission and takes him back to the Groove Box to find a willing girl. Cissy attempts to fix Harley up with Rhoda, but George, Rhoda's date who once tried to seduce Cissy, becomes jealous of Harley and beats him up in the parking lot. Now thoroughly discouraged, Harley prepares to return to his post, but Cissy drags him back to the merry-go-round. While snuggled together on the carousel, the teenagers have a serious discussion about duty and romance, then fall asleep. Early the next morning, the pair stumble back to Cissy's house and collapse on her parents' bed. Their slumber is soon interrupted when Mr. and Mrs. Harris return home early and find them in bed together. Although the teens are fully clothed, Mr. Harris is furious and orders Harley to leave. Embarrassed by her parents' reaction, Cissy storms out of her house and reunites with Harley. After Harley declares that he had one foster mother, Mrs. Sawyer, to whom he felt close, Cissy convinces him to pay Mrs. Sawyer an impromptu visit. Cissy and Harley take the bus to the seaside town where Mrs. Sawyer lives and find her fishing on the pier. Although pleasant, Mrs. Sawyer barely remembers Harley and talks only about how much money she received to care for him. Sensing Harley's growing sadness, Cissy once again offers to have sex with him, but he declines, saying he likes her too much to take her virginity. Still determined, Cissy finds a sympathetic prostitute to have sex with Harley for twelve dollars, their combined cash. When Harley exits the prostitute's house, however, he tells Cissy he could not go through with the act. That evening at the bus station, Harley says a wisftul goodbye to Cissy and makes a half-hearted promise to write to her. After he boards the bus, Cissy finally asks him his name but cannot make out his reply over the roar of the departing bus. Months later, at the merry-go-round, Cissy tells Mr. Murray that she will not be returning there as she has grown too old for carousels. She then reveals that the soldier she once brought to the merry-go-round, who named her beneficiary in his will, died in Vietnam.
Movie promotional posters (many countries and languages)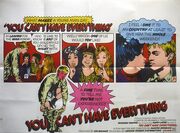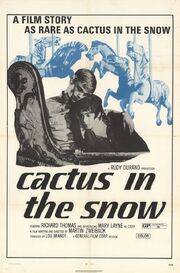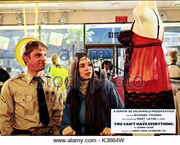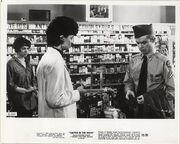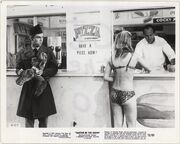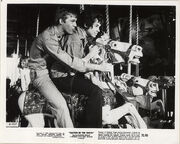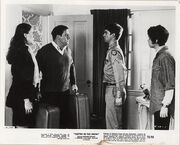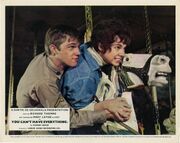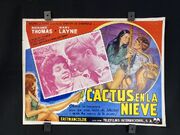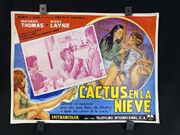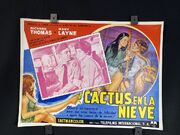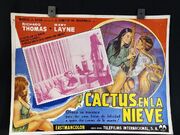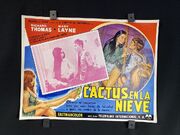 References
http://www.culturaencadena.com/preguntas/preguntas-sobre-cine/busqueda-de-series-tv-movies-miniseries-y-peliculas-de-todas-las-epocas-servicio-exclusivo-de-cec-hoy-cactus-in-the-snow/2012112313662.html
↑ https://www.imdb.com/title/tt0065514
↑ https://www.ebay.com/itm/Cactus-in-the-snow-Radio-Spots-promo-only-one-sided-4-spots-EX-NM-Richard-Thomas-/254700409767
↑ https://lourdeschavezblog.wordpress.com/2009/12/02/cactus-en-la-nieve/