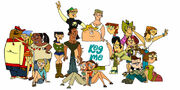 Camp TV was Total drama before it Came out in 2007. Some of the characters That were scrapped made it to Other seasons of Total drama While others Didn't make the cut. There is currently a trailer and A few episodes online and Character designs etc but there Are previews of episodes lost to time and are Well known in the total Drama community for being Lost history and What may have been ideas for episodes of the upcoming thing. It is Currently Being found and theres no Existence of it being Resurfaced on the internet.

Source of trailer (FOUND) https://www.youtube.com/watch?v=ysOYlX3ZKKI
Episodes 1 2 3 (LOST)
Episodes 4 5 6 (Existence unknown)
Community content is available under
CC-BY-SA
unless otherwise noted.