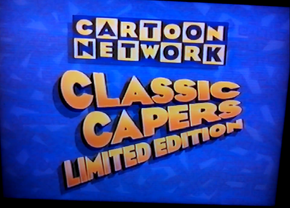 Cartoon Network: Classic Capers was a limited edition VHS release from Turner Broadcasting, released in 1992, before the channel was launched on October 1, 1992. It showed sneak previews of cartoons from Turner's library that would end up on Cartoon Network.
Originally, the closing was surfaced on YouTube in camera recording quality in 2007 or 2008, but was gone since then. However, 2018 was when only the intro was surfaced online in phone camera quality on ClassicCartoonJester's YouTube channel, the user will transfer tape to a file version of the entire tape soon with better quality.
Intro
Announcer: The Cartoon Network's Classic Capers is a Limited Edition videotape featuring just a few of your all time stars in the cartoon universe. And if you like these, then you're gonna love the Cartoon Network, where the Toon Age is about to begin. Coming to Cable October 1st!
Our first feature is Buccaneer Bunny, starring Yosemite Sam and that oh so modest rabbit, Bugs Bunny.
Bugs Bunny: Ah, my public! How they love me!
Outro
Announcer: See you soon on the Cartoon Network!
Community content is available under
CC-BY-SA
unless otherwise noted.