Doctor Strange in The Multiverse o Madness - The Loop
Play Sound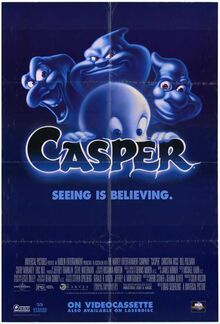 The 1995 animated/live action hybrid film Casper is notable for having many deleted scenes that have never seen the light of day. The only officially released scene to this day has been the unfinished deleted musical number "Lucky Enough To Be A Ghost" which has been included as a bonus feature on the DVD. The rest of the scenes however have yet to be released and have only been featured in trailers for the film, the script, and storybooks released around the time of the film's debut.
Deleted Scenes
Zelda Rubinstein reprising her role from Poltergeist (1982), getting shot out of a chimney by the ghostly trio while screaming "Go toward the light!" during Carrigan and Dibbs attempts at clearing the ghosts from the house with various paranormal experts.
The film featured some scenes in Santa Fe before the Harveys left, including one where Kat is singing on stage and was really happy to get an important role in the school production. During a rehearsal, Dr. Harvey suddenly crashes in, yelling, "Ghosts have been seen in Maine! C'mon, we're leaving!" Kat has no choice but to go, leaving her classmates awed and utterly dazed in amazement.
Extended version of the scene where Carrigan hands Dr. Harvey a big flower arrangement where Kat discovers a card on it offering condolences for Amelia's death.
A shot of the Ghostly Trio hiding in a suit of armour while Dr. Harvey is searching the mansion.
Kat and Dr. Harvey spend their first night at the mansion sleeping in their car due to being scared out by the ghosts that day.
A cameo of Steven Spielberg during the mirror scene of the ghostly trio possessing Dr. Harvey.
A scene during Kat's first day at her new high school where she gets startled by a ghost decoration being carried by.
Carrigan sitting with Dibbs at a restaurant on the harbor discussing the chances of success of Dr. Harvey's therapy. Suddenly, Dr. Harvey appears on the scene, rapidly racing down the hill in a rolling chair pushed by the ghostly trio and landing in the water. This was to occur after Fatso appears to Dr. Harvey as Amelia. (Featured in film storybook)
Kat coming across a picture of the ghostly trio as humans during the attic scene (Featured in film storybook)
Carrigan and Dibs check out the blueprints of the mansion in the town hall archive where they discover a huge cavelike room below the house. Of course, Carrigan at once realizes that her treasure must be down there.
Dibbs hiding in knight armour and attempting to kill Carrigan with an axe. (Featured in trailer)
The ghostly trio explaining their relationship with Casper before their deaths to Dr. Harvey.
Gallery
References
Videos