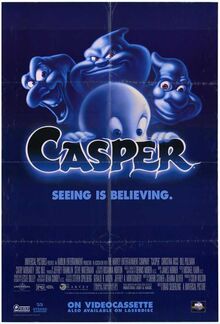 The 1995 animated/live action hybrid film Casper is notable for having many deleted scenes that have never seen the light of day. The only officially released scene to this day has been the unfinished deleted musical number "Lucky Enough To Be A Ghost" which has been included as a bonus feature on the DVD. The rest of the scenes however have yet to be released and have only been featured in trailers for the film, the script, and storybooks released around the time of the film's debut.
Deleted Scenes
Zelda Rubinstein reprising her role from Poltergeist (1982), getting shot out of a chimney by the ghostly trio while screaming "Go toward the light!" during Carrigan and Dibbs attempts at clearing the ghosts from the house with various methods.
Carrigan sitting with Dibbs at a restaurant on the harbor discussing the chances of success of Dr. Harvey's therapy. Suddenly, Dr. Harvey appears on the scene, rapidly racing down the hill... (Featured in film storybook)
A cameo of Stephen Spielberg during the mirror scene of the ghostly trio possessing Dr. Harvey.
Kat coming across a picture of the ghostly trio as humans during the attic scene (Featured in film storybook)
Dibbs hiding in knight armour and attempting to kill Carrigan with an axe. (Featured in trailer)
The ghostly trio explaining their relationship with Casper before their deaths to Dr. Harvey.
Community content is available under
CC-BY-SA
unless otherwise noted.