Doctor Strange in The Multiverse o Madness - The Loop
Play Sound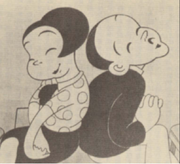 Chikara to Onna no Yo no Naka (力と女の世の中, lit. "Within the World of Power and Women" or "The World of Power and Women") is a 1933 anime short film by Kenzō Masaoka and the first Japanese anime of any type to feature voiceovers. The film was released in black and white. There are no known prints of this film available, and it is considered a lost film.
Chikara was listed as one of the "Best of Best" by the 12th Japan Media Arts Festival
The protagonist is a father of four children. His wife is 180 centimetres (5.9 ft) tall, and weighs 120 kilograms (260 lb) due to her incredibly large physique.[citation needed] Because he is constantly being henpecked at home, he becomes involved in an affair with a typist at his company and accidentally tells his wife about it while talking in his sleep. After obtaining additional evidence of the affair, she goes to confront both her husband and the typist at her husband's office.[citation needed]
Production[edit]
In 1927, The Jazz Singer was released in the United States as the first talkie film, and Japanese film companies began working on creating them as well. Shochiku released The Neighbor's Wife and Mine (マダムと女房, Madamu to Nyōbō) in 1931, the first Japanese talkie. Due to the success of this film, the president of Shochiku, Shirō Kido, commissioned Masaoka to make the first anime talkie, and he began working on it immediately.
Masaoka worked on the film for a little over a year and finally completed it in October 1932. The film was released in theaters the following year on 13 April 1933. At this time, the job of voice actor did not exist, so Shochiku used regular actors for the voice parts. Casting well-known stars, such as Roppa Furukawa and Ranko Sawa (of the Takarazuka Revue), helped make the film a success.