Doctor Strange in The Multiverse o Madness - The Loop
Play Sound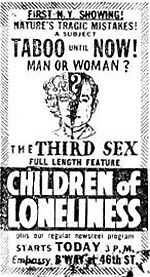 Children of Loneliness is a 1937 exploitation melodrama film written and directed by Richard C. Kahn. Said to be inspired by the 1928 novel The Well of Loneliness, the picture is also notable for being one of the first exploitation films to explore the subject of homosexuality. It has never appeared in any form of online media.
Plot
The film revolved around Bobby, a vindictive lesbian obsessed with her roommate Eleanor who works in a law office. There is also a parallel story revolving around a young woman at the same law firm who falls for a gay male artist. The gay characters don't fare well in the story resulting in the artist committing suicide after being told he could never have normal marriage. The two female characters enter a conflict resulting in Bobby attempting to throw acid on Eleanor, only to have it land on her face. Blinded, she runs into the street before being hit by a car.
Cast
Dr S. Dana Hubbard as himself
Luana Walters as Eleanor
Jean Carmen as Bobby
Wallace Morgan as The Artist
Sheila Loren as Judith Grant
Further Into Homosexuality in Film
Occasionally after showings of Children of Loneliness, a doctor would come out into the audience to sell pamphlets designed to explain, and likely cure, homosexuality. As the topic of homosexuality was becoming much more pervasive in American culture by the 1930s, these movies took advantage of the moment to educate as well as exploit this newfound curiosity. It is difficult to know what contemporary queer men and women thought of such films, if they attended them in droves, and whether they took them seriously or not.