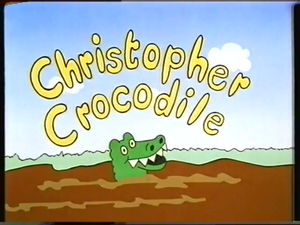 Christopher Crocodile
is an animated British children's cartoon TV series. It was produced by Direct Entertainment Ltd, animated by Mixpix Production and shown on BBC TV from the 18th of September 1992 to the 11th of December 1992, with the show having a special (which guest starred Phoebe Scholfield) called "Cloud Crazy" on the 14th of April 1995. It was narrated by veteran children's entertainer, Derek Griffiths who also provided the voices of all the characters (with the exception of the Weather Witch from the "Cloud Crazy" special, who instead was voiced by Phoebe Scholfield).
While all thirteen episodes had a VHS release in the UK in 1994 by The Video Collection, the episodes "Statue" and "Sub-Car" had never been released on DVD in any form despite the fact that the rest of the episodes and the "Cloud Crazy" special were released on DVD in 2004, and the entirety of the VHS release containing all the episodes were never uploaded on YouTube, as a result, "Statue" and "Sub-Car" have never been uploaded on YouTube, nor does current owner NBCUniversal (under DreamWorks Animation's DreamWorks Classics subsidiary) does not want to re-release the entirety of the show on DVD, thus making the chances of the episodes, "Statue" and "Sub-Car" resurfacing rather unlikely as The Adventures of Christopher Crocodile VHS release gets rarer and hard to find considering that fans of the show are trying to get their hands on that VHS release.
Community content is available under
CC-BY-SA
unless otherwise noted.