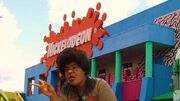 Classicnickelodeon96 is a YouTube channel owned by Isaiah M. Stuart. The channel was best known for the web series '90s News, where he would mostly talk about current news related to classic Nickelodeon and other '90s culture. The channel was created on February 17, 2011, and '90s News started in December 2012. 
In November 2014, Isaiah announced that '90s News would be moved to a new channel, titled 90snews. New episodes of '90s News continued up until November 4, 2016. Two days later, Isaiah uploaded his last video onto the channel regarding A Tribe Called Quest's final album We Got It from Here... Thank You 4 Your Service. No new videos have been uploaded to the channel ever since.
As of February 2018, all videos on Classicnickelodeon96 (except for an interview with former All That star Alisa Reyes) have been listed as private. On 90snews, all episodes of '90s News (except for the last one) have also been set to private. Only 6 other videos on that channel remain, which aren't '90s News episodes. The Facebook page, Classicnick96 , is still online, with links to all the old videos, although they will tell you the videos are private.
It is unknown why the videos were set to private.
'90s News episodes
In February 2016, a video was uploaded to the NickRewind YouTube channel showing clips of fans paying tributes to '90s Nickelodeon. A clip from '90s News is seen in this video:
https://youtu.be/n07vSrEEaMc?t=310
Links
Community content is available under
CC-BY-SA
unless otherwise noted.