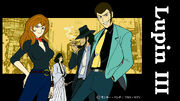 The first Lupin III anime series was produced by TMS Entertainment and first aired between October 24, 1971 and March 26, 1972, In later years the show had many foreign releases, including an Spanish dub made in Los Ángeles.[1]
Availability
The Latin Spanish dub was first aired on the now-defunct channel Locomotion, but according to Wikipedia it was also aired on Etc..Tv in Chile.
Promos of the show resurfaced online[2][3], and one website has most episodes on it[4]
In Late 2020, the show started being reaired in ETC[5], so the missing episodes can be recorded.
Missing Episodes
08.- La Operación de todos jugando a las cartas. 16.- La operación del robo a la joya. 18.- El caso del cuadro en el concurso de la belleza. 23.- El gran reto de oro.
References
Community content is available under
CC-BY-SA
unless otherwise noted.