The show went development hell when the sneak peak of Close enough released back in 2017 July 21, 2017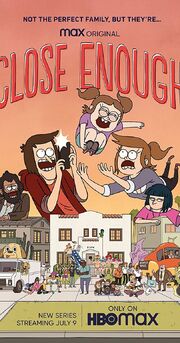 Originally the show used to be 22 minutes long
But the show had problems for trying 22 minutes vs 11 minutes.
But they have to cut the 22 minutes to turn into 11 minutes and the evidence were the black transition
The only episode that hadn't got cut into 11 minutes was The caffine guy If I spelled the episode right.
Leading the other episodes to be cut and leading the 22 minutes scenes of the other episodes to be Lost
Forever.
Sources IF YOU WANT TO READ MORE
https://www.bubbleblabber.com/reddit-ama-recap-jg-quintel-talks-close-enough/
https://www.youtube.com/watch?v=S33uf3E4UT4 -If you want to watch the teaser trailer
Status: Lost
Community content is available under
CC-BY-SA
unless otherwise noted.