Doctor Strange in The Multiverse o Madness - The Loop
Play Sound
The Lost Media Wiki's article on the subject!
College Terra Story was a PC dating simulator released only in Japan in 1998.It is a direct sequel to the Sega Saturn/PC game High School Terra Story.
The only thing I could find about the story is from the Visual Novel Database website:
"The story picks up off where High School Terra Story ended. You are, again, Keisuke from the first game and you are now attending college. Keisuke is intrigued with a pop idol rock star named Hiromi, who also happens to attend the same university as he does. The six girls from the first game (Misa, Rina, Mimi, Aki, Chiho and Mao) are also back and you can continue their love stories from where they left off from the first game if you choose to do so."
The game has not surfaced anywhere in any way, shape of form, No ROMs of the game can be found and there isn't even any gameplay anywhere online. The only things that have surfaced is the game's cover art, 1 music piece for the game's soundtrack, the previously mentioned little bits of info from the Visual Novel Database and a copy of the game's strategy guide that is currently being sold on ebay. But many aspects of the game remain unknown due to a lack of any copies being found.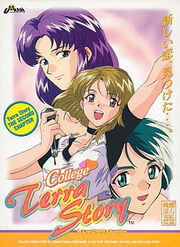 visual novel database listing for the game