Wiki Targeted (Entertainment)
Play Sound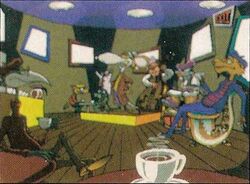 Coolsville was a PC adventure game that was meant to be released in fall of 1994, developed by Music Pen and distributed by Mediavision. It was cancelled after the latter company sunk down.
Staff
Graphic designer T R U E worked on the character design, backgrounds, animations and other illustrations. Musician Jared Faber also served as the musical composer.
Plot
The game is set in Coolsville, a city populated with anthropomorphic cartoon animals who are all into jazz music. Coolsville is led by a council of six gurus who reunite each year for a concert known as "The Great Gig"; this concert gives energy to the city for a year. One of the gurus has been abducted, and the player character is set on a quest to find him, picking up musicians to form a band along the way.
Legacy
The only visual signs of its existence that have ever been made public are a few screenshots, as shown in several magazines that were published before the game was cancelled. These screenshots seem to imply that the game may also have had music-playing gameplay, as well as classic point-and-click adventure. No prototype, demo or concrete version of the game has ever surfaced to this day. Artist T R U E also showed two high-quality screenshots on his webpage.
Music Pen developed educational games, most of them being based on The Magic School Bus license.
Music Pen trademarked the COOLSVILLE name as a trademark in 1996, which possibly means that they were expecting to resume development and eventually release the game. However, it was abandoned two years later without a statement of use.
References
http://www.abandonware-france.org/ltf_abandon/ltf_jeu.php?id=1476 A French website about this game's cancelled status
http://www.trueart.biz/music_pen_cd_rom_game_character_design_coolsville_1.html Artist T R U E about his work on the game.
http://www.trademarkia.com/coolsville-75065508.html Trademark status
Community content is available under
CC-BY-SA
unless otherwise noted.