Wiki Targeted (Entertainment)
Play Sound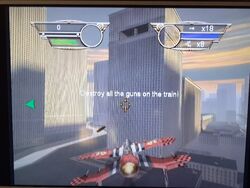 Crimson Skies: High Road to Revenge is a video game developed by FASA Studio (part of Microsoft Game Studios) for the Xbox. The game, like its PC predecessor, is an arcade flight game.
A year before the game's release, the first showing of Crimson Skies: High Road to Revenge was at E3 2002 between May 22 and May 24, which also happened to be the first time the game could be played by the public. Originally, the game followed the vein of Indiana Jones with an "interactive movie" concept. At the time, the levels of the game and storyline were completely different from the final version, and was intended to be released sometime on Fall 2002.
The content of the game included levels featuring a zeppelin casino, and an early version of Sea Haven, Chicago and Arixo. While on the other hand, the game would had featured destructible environments, bonus weapons and "danger zones" (incorporated from the first game). These features were scrapped in later development after the development team chose to rework on the game in response to playtesters criticizing that they feel that the game's levels are too short and linear, and that producers found that it was difficult on translating the "playable movie" concept from concept art to gameplay. This caused the game's release to be delayed for 2003.
Gallery