The Lost Media Wiki's article on the subject!
The pilot of the 2002 animated program Cyberchase originally was privately distributed for schools in May 1999, then known as the Poddleville Case. It was then publicly premiered in August 1999 through September 1999, and again in March 2000. The pilot was digitally edited, completely redubbed, slightly rescripted and reused as Episode 7 for the final series
Available to the public, for the May showcase for schools, a report based on the studies of how it affected children noted a breakfast scene for Jackie, which was scrapped in final. The 3 min promo shows the end of this scene
For the 17th Anniversary of Cyberchase, the Official Facebook account for it released the original 3 min promo for the August broadcast. Seeing this, there are many differences between the original pilot and Final edit
Finally, one of the storybook and ancillary character artists of the pilot (Gino Patti) revealed he had the August tape. He uploaded some screenshots on his Instagram, revealing another logo, original end credits, video time and physical proof, as well as 1 scene not in either the promo or final.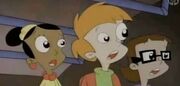 Logo Differences
The one in the 3 min promo is from the WNET site, one of the last remnants of it before being rebooted for the PBS Kids site version
Several reused scenes in final have the hue shifted. It's unknown why this error occurs, since other unedited scenes didn't have their colors affected
Digitally Reanimated bits
The promo noticeably lacks the CG effects for many areas, with the exception of Proto Motherboard. It's safe to say this scene was newly made for Final (Note, a later Poddleville centric episode also reuses this CG sequence)
Rest were notably edited, some with differing lengths
Video Lengths
Time for Pilot: 24:15
Time for Final: 22:30
This notes that about 2 min of footage from the pilot was scrapped, potentially for character intros
What's not in the pilot
Many people think the live action segment in Episode 7 is from the pilot, due to using a different actor than the rest of the episodes, and overall older footage. However, nothing of the sort was noted in the May report, nor is the VHS tape of the pilot long enough to have both the animation and 3 and a half minute Live Action segment. Gino Patti himself didn't know one was made
Sources:
1999 May report: https://www.informalscience.org/formative-evaluation-cyberchase-poddleville-case-full-report
Gino Patti's Instagram with End Credit's footage: https://www.instagram.com/p/BjAWsFfnx_n/?igshid=1wt11daj1861z
Promo taken from the FACEBOOK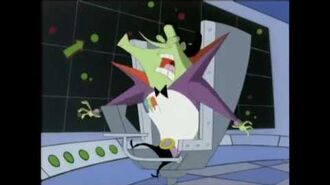 Comparison vids for more info: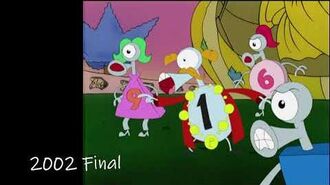 Community content is available under
CC-BY-SA
unless otherwise noted.