Doctor Strange in The Multiverse o Madness - The Loop
Play Sound
davemadson (full name: David N. Madson) is an American YouTuber, who is best known for his text to speech (TTS) videos, and his bloopers content. He first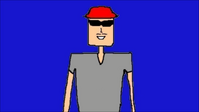 joined YouTube on February 14, 2010 under the channel name "dnm728part3" where he would post the forms of content that he still posts to this day. He also introduced his Looney Tunes Intro Bloopers series, the 4th one the first with the Microsoft TTS voices, posted sometime in mid 2010. On April 14, 2011, he took the channel down, and a day later, he created another account, under the name "davemadson." He continued making the same style of content from the original channel. On April 7, 2014, he shut down the channel due to his busy personal life and Microsoft discontinuing support for Windows XP, where he made his videos. He started posting content again on January 10, 2017, and he is still doing so to this day. However, due to moving to 2 other accounts, and him barely reuploading older content, a large chunk of his older videos are lost.
Lost Series
dnm728part3 (2010-2011)
Logo Playhouse
Annoying Signs
davemadson (2011-2014)
Logo Spoof
Logo FX
TILT!
Deformed Logo
Logos Falling Apart
the real davemadson (2017-present)
TBA

Lost Videos
TBA