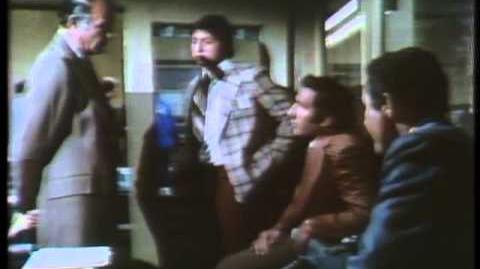 Delvecchio is a 1976 crime drama aired on CBS and starring two-time Tony winner Judd Hirsch (who would later go on to greater success in Taxi, Ordinary People, and the American remake of Dear John....) as Italian-American LAPD detective Sgt. Dominick "Delwop" Delvecchio, who was also studying to become a lawyer. The series was also noted for two cast members, Charles Haid and Michael Conrad, later starring on NBC's Hill Street Blues (created by Steven Bochco, who wrote eight of the show's episodes). It aired Sundays at 10:00 Eastern time, but due to competition from The ABC Sunday Night Movie and NBC's The Big Event, it was cancelled after twenty episodes, with two unaired.
Despite TV Land having aired reruns at some point, none of the series has turned up in years. However, the episode "Licensed to Kill" was included on a 2006 DVD by Universal Studios Home Entertainment, Brilliant But Cancelled: Crime Dramas (based on the Trio block, the DVD also includes episodes of 1956's Johnny Staccato, 1989's Gideon Oliver, and 2004's Touching Evil). In addition, both footage of a young Mark Harmon guest-starring in the episode "Hot Spell" and a CBS promo for "The Silent Prey" have been posted to YouTube.
Community content is available under
CC-BY-SA
unless otherwise noted.