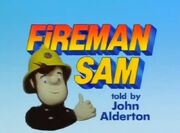 Fireman Sam is an animated comedy children's television series about a fireman called Sam, his fellow firefighters, and other residents in the fictional Welsh rural village of Pontypandy (a portmanteau of two real towns, Pontypridd and Tonypandy, which are situated approximately 8 kilometres (5.0 mi) apart in the South Wales valleys). The original idea for the show came from two ex-firemen from Kent, who took their idea to artist and writer Rob Lee who developed the concept, and the show was later commissioned and broadcast by the Welsh language channel S4C, in Welsh.
Fireman Sam was dubbed in German from 1989 and aired on KiKA from season 1 onwards. Through the Season 5-12 were found in German, Season 1-4 were lost and had no surface.
On 2 December 2002, DVDs Were release That has Season 1, 2, 3, 4, episodes and the christmas special.
An Unknown channel has uploaded the episode "Sam's Day Off" title as "Die Popcornmaschine" but isn't available anymore due to the closer of account, The theme song was reuploaded by Starkid 1236 and then got restored by SBG's Secondary Channel with more loud music.
The DVD of the Full series can be found here.
Gallery
Community content is available under
CC-BY-SA
unless otherwise noted.