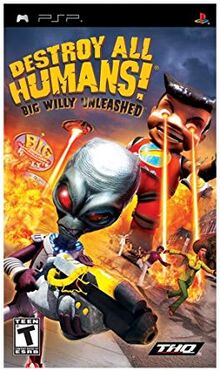 Destroy All Humans! Big Willy Unleashed was released exclusively for the Wii in 2008. It is the third installment in the Destroy All Humans! franchise, a series of open world, action-adventure games.
The plot involves Cryptosporidium - 138 and his boss, Pox, operating a fast food chain known as "Big Willy's". However, they run into many enemies of their business and Crypto must kill any person who challenges the restaurant.
The game received mixed reviews, some criticizing the graphics and lack of content.[1]
Plans of port to PSP and PS2
THQ had plans to port Destroy All Humans! Big Willy Unleashed to the Playstation Portable. The developers were tasked to convert the controls for use on the PSP. Mapping the controls from the Wii title proved to be impossible, so the port was cancelled.[2]
There were also plans to release it for the Playstation 2 alongside the Wii, but with THQ plagued by budget problems, they were abandoned.[3]
Community content is available under
CC-BY-SA
unless otherwise noted.